In the wake of the Supreme Court's devastating decision to strike down Roe v. Wade, it feels more important than ever to talk about the roles feminism plays in environmental protection.
So let's dig in. Here are publishers' descriptions of 20 books — most released in the past 18 months, plus a few forthcoming titles and one classic read — that address the intersection of feminism and the environment, explore the female side of nature, or seek to encourage women activists, leaders and naturalists. Many of these volumes will help inspire, while some will shine a light on ignored aspects of nature. And critically, a few of these books are written for the next generation, who now have another of our messes to repair.
---
Ecofeminism, Intersectionality & Inclusion
The Death of Nature: Women, Ecology and the Scientific Revolution (40th anniversary edition)
by Carolyn Merchant
"An examination of the Scientific Revolution that shows how the mechanistic world view of modern science has sanctioned the exploitation of nature, unrestrained commercial expansion, and a new socioeconomic order that subordinates women."
The Intersectional Environmentalist: How to Dismantle Systems of Oppression to Protect People + Planet
by Leah Thomas        
"From the activist who coined the term comes a primer on intersectional environmentalism for the next generation of activists looking to create meaningful, inclusive and sustainable change. The Intersectional Environmentalist examines the inextricable link between environmentalism, racism and privilege, and promotes awareness of the fundamental truth that we cannot save the planet without uplifting the voices of its people — especially those most often unheard."
Feminism or Death: How the Women's Movement Can Save the Planet
by Françoise d'Eaubonne, translated by Ruth Hottell
"Originally published in French in 1974, radical feminist Françoise d'Eaubonne surveyed women's status around the globe and argued that the stakes of feminist struggles were not about equality but about life and death — for humans and the planet. In this wide-ranging manifesto, d'Eaubonne first proposed a politics of ecofeminism, the idea that the patriarchal system's claim over women's bodies and the natural world destroys both, and that feminism and environmentalism must bring about a new 'mutation' — an overthrow of not just male power but the system of power itself."
Fresh Banana Leaves: Healing Indigenous Landscapes through Indigenous Science
by Jessica Hernandez
"An Indigenous environmental scientist breaks down why western conservationism isn't working — and offers Indigenous models informed by case studies, personal stories and family histories that center the voices of Latin American women and land protectors."
Ecofeminism, Second Edition: Feminist Intersections with Other Animals and the Earth
edited by Carol J. Adams & Lori Gruen
"Drawing on animal studies, environmental studies, feminist/gender studies and practical ethics, the ecofeminist contributors to this volume stress the need to move beyond binaries and attend to context over universal judgments; spotlight the importance of care as well as justice, emotion as well as reason; and work to undo the logic of domination and its material implications."
Violent Inheritance: Sexuality, Land and Energy in Making the North American West
by E Cram
"Violent Inheritance deepens the analysis of settler colonialism's endurance in the North American West and how infrastructures that ground sexual modernity are both reproduced and challenged by publics who have inherited them. E Cram redefines sexual modernity through extractivism, wherein sexuality functions to extract value from life including land, air, minerals and bodies. Analyzing struggles over memory cultures through the region's land use controversies at the turn of and well into the twentieth century, Cram unpacks the consequences of western settlement and the energy regimes that fueled it."
Animal Crisis: A New Critical Theory
by Alice Crary & Lori Gruen
"In stark contrast to traditional theories in animal ethics, which abstract from social mechanisms harmful to human beings, Animal Crisis makes the case that there can be no animal liberation without human emancipation. Borrowing from critical theories such as ecofeminism, Crary and Gruen present a critical animal theory for understanding and combating the structural forces that enable the diminishment of so many to the advantage of a few. With seven case studies of complex human-animal relations, they make an urgent plea to dismantle the 'human supremacism' that is devastating animal lives and hurtling us toward ecocide."
Fat Girls Hiking: An Inclusive Guide to Getting Outdoors at Any Size or Ability
by Summer Michaud-Skog
"From the founder of the Fat Girls Hiking community comes an inclusive, inspiring call to the outdoors for people of all body types, sizes and backgrounds. In a book brimming with heartfelt stories, practical advice, personal profiles of Fat Girls Hiking community members and helpful trail reviews, Summer Michaud-Skog creates space for marginalized bodies with an insistent conviction that outdoor recreation should welcome everyone."
Unsettling: Surviving Extinction Together
by Elizabeth Weinberg
"Using the stories of animals, landscapes and people who have exhibited resilience in the face of persistent colonization across the North American continent, science writer Elizabeth Weinberg explores how climate change is a direct result of white supremacy, colonialism, sexism and heteronormativity." (Available Oct. 18)
---
Modern Female Leaders & Activists
Still Hopeful: Lessons from a Lifetime of Activism
by Maude Barlow
"In this timely book, Barlow counters the prevailing atmosphere of pessimism that surrounds us and offers lessons of hope that she has learned from a lifetime of activism. She has been a linchpin in three major movements in her life: second-wave feminism, the battle against free trade and globalization, and the global fight for water justice. From each of these she draws her lessons of hope, emphasizing that effective activism is not really about the goal, rather it is about building a movement and finding like-minded people to carry the load with you. Barlow knows firsthand how hard fighting for change can be. But she also knows that change does happen and that hope is the essential ingredient."
Nature, Culture and the Sacred: A Woman Listens for Leadership (second edition)
by Nina Simons
"Bioneers co-founder Nina Simons offers inspiration for anyone who aspires to grow into their own unique form of leadership with resilience and joy. Informed by her extensive experience with multicultural women's leadership development, Simons replaces the old patriarchal leadership paradigm with a more feminine-inflected style that illustrates the interconnected nature of the issues we face today."
by María Sánchez, translated by Curtis Bauer
"María Sánchez is obsessed with what she cannot see. As a field veterinarian following in the footsteps of generations before her, she travels the countryside of Spain bearing witness to a life eroding before her eyes — words, practices and people slipping away because of depopulation, exploitation of natural resources, inadequate environmental policies, and development encroaching on farmland and villages. Sánchez, the first woman in her family to dedicate herself to what has traditionally been a male-dominated profession, rebuffs the bucolic narrative of rural life often written by — and for consumption by — people in cities, describing the multilayered social complexity of people who are proud, resilient and often misunderstood."
Right Here, Right Now: How Woman Can Lead the Way in the Climate Emergency
by Natalie Isaacs
"The science is clear: if we continue to burn fossil fuels at current rates, the Earth will continue to warm. Already, the consequences of climate change are upon us. Now, in this powerful call to action with optimism at its heart, the founder of the global climate action movement 1 Million Women explains why we all must act, wherever we are, and why, in this decisive decade, we must act now." (Available Oct. 25)
---
The Female in Nature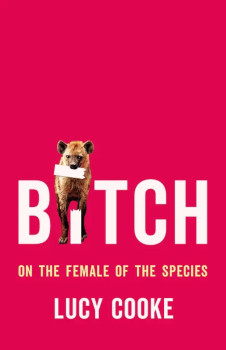 Bitch: On the Female of the Species
by Lucy Cooke
"Since Charles Darwin, evolutionary biologists have been convinced that the males of the animal kingdom are the interesting ones — dominating and promiscuous, while females are dull, passive and devoted. In Bitch, Cooke tells a new story. Whether investigating same-sex female albatross couples that raise chicks, murderous mother meerkats, or the titanic battle of the sexes waged by ducks, Cooke shows us new evolutionary biology, one where females can be as dynamic as any male. This isn't your grandfather's evolutionary biology. It's more inclusive, truer to life and, simply, more fun."
Sexus Animalis: There Is Nothing Unnatural in Nature
by Emmanuelle Pouydebat
"In the animal kingdom we find heterosexual, lesbian, gay and bisexual behavior, as well as monogamy, polygamy and polyandry … Sexus Animalis tells us everything we never dreamed we wanted to know about the reproductive systems, genital organs and sexual practices of animals."
---
Lessons from History
Woman, Watching: Louise de Kiriline Lawrence and the Songbirds of Pimisi Bay
by Merilyn Simonds
"Referred to as a Canadian Rachel Carson, Louise de Kiriline Lawrence lived and worked in an isolated log cabin near North Bay. After her husband was murdered by Bolsheviks, she refused her Swedish privilege and joined the Canadian Red Cross, visiting her northern Ontario patients by dogsled. When Elzire Dionne gave birth to five babies, Louise became nurse to the Dionne Quintuplets. Repulsed by the media circus, she retreated to her wilderness cabin, where she devoted herself to studying the birds that nested in her forest. Author of six books and scores of magazine stories, de Kiriline Lawrence and her 'loghouse nest' became a Mecca for international ornithologists."
A Mighty Force: Dr. Elizabeth Hayes and Her War for Public Health
by Marcia Biederman
"…Elizabeth O. Hayes, MD, doctor for a coal company that owned the town of Force, Penn., where sewage contaminated the drinking waters and ambulances sank into muddy unpaved roads while corrupt managers… When Hayes resigned to protest intolerable living conditions, 350 miners followed her in strike, shaking the foundation of the town and attracting a national media storm. Press — including women reporters, temporarily assigned to national news desks in wartime — flocked to the small mining town to champion Dr. Hayes' cause. Slim, blonde and 33, 'Dr. Betty' became the heroine of an environmental drama that captured the nation's attention, complete with mustache-twirling villains, surprises, setbacks and a mostly happy ending."
Windswept: Walking the Paths of Trailblazing Women
by Annabel Abbs
"…a beautifully written meditation on connecting with the outdoors through the simple act of walking. In captivating and elegant prose, Abbs follows in the footsteps of women who boldly reclaimed wild landscapes for themselves, including Georgia O'Keeffe in the empty plains of Texas and New Mexico, Nan Shepherd in the mountains of Scotland, Gwen John following the French River Garonne, Daphne du Maurier along the River Rhône and Simone de Beauvoir — who walked as much as twenty-five miles a day in a dress and espadrilles — through the mountains and forests of France… Abbs explores a forgotten legacy of moving on foot and discovers how it has helped women throughout history to find their voices, to reimagine their lives, and to break free from convention."
---
For the Next Generation
by Rebel Girls
"For Earth Day (and every day!), this mini edition of the award-winning Good Night Stories for Rebel Girls series spotlights the ground-breaking work of women on the frontlines of the fight for climate justice."
No Boundaries: 25 Women Explorers and Scientists Share Adventures, Inspiration and Advice
by Clare Fieseler & Gabby Salazar
"Meet 25 female explorers and scientists in these inspirational and poignant stories of exploration, courage and girl power. Along the way, they share lessons learned and words of wisdom sure to inspire the next generation of scientists, adventurers and world-changers."
---
Get more from The Revelator. Subscribe to our newsletter, or follow us on Facebook and Twitter.
---
Previously in The Revelator:
Ten New Environmental Books Offering Inspiration, Insight and Ideas